Disco Dome Bouncy Castle for hire for parties, school fetes and special occasions in Cardiff, Newport and surrounding areas of South Wales.
The incredible red and black Disco Dome Bouncy Castle provides a superb disco bouncy castle experience! (HIRE from £90)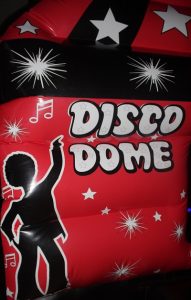 This 12ft x 17ft bouncy castle is totally enclosed and is accessed via an opening at the front of the castle. The Disco Dome is dark inside and provides the usual amazing bouncy castle experience but with a unique party appearance!
The Disco Dome has disco lights and a speaker inside providing an amazing true disco feeling within the castle.
We will transport the castle to your event, erect in the position you require including the installation of the disco lights and sound system, ensuring that it is safely in position – so that you are ready to party!
Disco Dome information
Suitable for: Adult & Children
Size : 12ft x 17ft
Suitable age range– 1yrs to 99yrs
Suitable for adult use? Yes.
Suitable for indoor use? Yes – easy access will be required (Ground Floor or lift access!)
Suitable for outdoor use? Yes, providing the venue is large enough.
Suitable for hardstanding? Yes – please note mats are provided but caution should always be taken to ensure no one falls onto hard surface.
Built in rain cover? Yes it has an inflatable roof to resist showers.
Suitable in wind? Yes as always, must not be used in Beaufort scale 4 or above – Extra caution must be observed in disco domes with regards to pressure build up.
Staffing requirements: All bouncy castles provided must be supervised at all times by a responsible adult. Should you not be able to provide adequate supervision, we are able to help. Please contact us for further information.
Power Requirements: We provide an electrical inflation device/blower for this bouncy castle, however we do require you to supply a 240v mains supply (standard household socket) within 20m of the area you require the item to be set in.
Large Events: Should you wish to book this bouncy castle as a part of a larger event, please contact us so you can provide more detailed information and arrange a site meeting if required.
Features:
All-in-one sound system for parties and events.
Bluetooth enabled- YOU WILL NEED A BLUETOOTH DEVICE & KNOWLEDGE OF HOW TO PAIR IT. PLEASE CALL IF YOU ARE UNSURE BEFORE YOU BOOK. TECHINICAL ADVICE MAY NOT BE AVAILABLE ON THE DAY.
What's included in the price?  The price includes free local delivery, set up and collection of your BOUNCY CASTLE  anytime between 9.00am and 7.00pm. We hold  £5,000,000 public liability insurance just in case.
Hire of the Disco Dome bouncy castle is from £90. (Available  late night for extra charge – Please note; this is subject to a suitably safe & secure venue being available.)

If you are looking to hire a bouncy castle in Cardiff, Newport, Pontypridd, Caerphilly or the surrounding areas of South Wales then please contact us today.
Call 07597 522163 or 07966 636111